#ApplicationDesign
#Navigation
5 App Navigation Design Mistakes to Avoid
In 2017, the number of apps downloaded reached 197 billion. Considering that the population of the entire world is only a fraction of that, stop for a second and consider the magnitude of this number.
While it's obvious that mobile users love apps, it's also obvious that they have plenty of choices. This translates to competition for you. What makes the difference between an app that becomes a regular fixture and one that gets uninstalled before it really even gets a chance?
Many times, it's navigation.
So, what exactly are the navigation mistakes that you need to avoid at all cost with your app design? Here are the top 5.
Hello, Where Are You?
There's a lot of back and forth about what type of app navigation menu results in a better user experience (UX). We're not interested in debating this here though, because if a user can't even find the navigation menu then the design doesn't really matter.
Since users like a clean, uncluttered appearance in their apps, it might seem logical to minimize the navigation menu or hide it behind another tap. Unfortunately, this does nothing to enhance the user experience.
Hidden navigation only frustrates users and will have them checking out another app that's more intuitive to use.
There's No Balance
There's a balance between too many and too few options for a navigation window, and sometimes it's a challenge to find it.
A menu that contains too many options is just plain overwhelming. Imagine users tapping on the menu and having their entire screen filled with menu choices. They may have thought they knew where they wanted to go, but now they're not so sure. Too many options have forced them to question their next move. We've published an article on this called, Hamburger Menu Abuse.
On the other hand, too few options leaves too much to chance. If, in an effort to streamline, you've gathered every destination under two or three generic choices, you've made it so the user must do the guesswork. This automatically means a bigger learning curve for an app that should be intuitive. This results in what's called a poor information scent. In other words, the user can't effectively smell what's behind those generic navigation options.
Stepping Away from the Tried and True
There's a universal language to app icons. We all know that a little house will lead you to the home page and that tapping a shopping cart will bring up a summary of your order. When you break away from these gold standards of navigation, it leaves users confused.
Resist the urge to get creative or cutesy with icons to keep navigation simple for your users.
Making the Path Too Long
People shouldn't need to work to find their way around your app. If it takes them more than 2-3 clicks to find what they're looking for, it's time to streamline the process.
For example, users of a bank app should be able to connect with their account balance or history in one tap, rather than a series of unnecessary steps.
Getting Too Creative with the Layout
We've all been interacting with apps and websites long enough to feel comfortable looking for key navigation elements in specific places.
For example, you're not going to naturally look in the bottom right hand corner to back out of a screen. We're creatures of habit and it's important to keep this in mind when designing your app navigation.
Once again, you don't want your app reviews to say that it was hard to use or took some time to get used to. Great apps are installed, launched and used intuitively.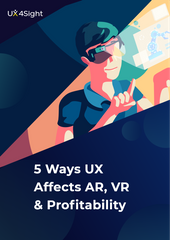 Get Latest Whitepaper
Get The Latest UI/UX Trends and Best Practices
GET WHITEPAPER
Abdul Suleiman
Chief Experience Officer
Abdul is our founder and CEO. He's helped over 40 Fortune 500 companies make informed user-centered design decisions through evidence-based user research and UX best practices. As an Adjunct Professor, Abdul has taught in DePaul University's graduate UX programs and for nine other universities.