#UsabilityTesting
#UserExperience
Difference Between Usability and User Experience (UX)
Though there is some overlap, understanding the difference between usability and user experience is important. Let's discuss some differences between usability and user experience, in addition to when you should focus on one over the other. Although both usability and user experience are important, they aren't managed in the same ways.
The Basics: Usability vs. User Experience
Let's start with some definitions:
Usability is the ability for users to complete their tasks using the software they're provided.
User experience is the sum total of the experience that users have when utilizing the software.
Usability is a core part of user experience, but user experience is significantly broader in scope. A developer must consider both of these things when fine-tuning and optimizing their product.
So, a website or software maybe super easy and functional, but doesn't leave an emotional effect on the user. This would be an experience that has been optimized for usability, but not the user experience. In the image shared for this article, the boy is experiencing benefits of both usability and user experience.
The Usability of a Product: Is It Easy?
A product is considered to be usable when it is intuitive. An ideal product makes it possible for a consumer to look at it and immediately know how to complete the tasks that they're interested in completing. As a task-based assessment, improving upon usability generally relates to simplifying and streamlining the product, while also making it more obvious to the user which interactions they need to complete.
In general, the usability of a product is empirically easy to test. When developing an app, the number of clicks a user has to perform in order to complete a task might be counted. High usability would only require a few clicks to complete any task. Low usability could lead to the user having to go through dozens of clicks to complete a simple task, or lead to the user not finding the options they needed at all.
If users report that a product is confusing or difficult to use, the usability needs to be improved.
The User Experience: Does It Feel Good?
Compared to usability, user experience can be more difficult to quantify because it's driven by emotions. Usability asks whether a customer is able to accomplish a task. User experience outlines how the user feels when completing that task. Are they frustrated or annoyed? Do they feel confused and adrift?
User experience also encompasses more than just the interface of a product, but also includes content, branding, and the overall workings of the business.
Understandably, this also means that user experience is far more difficult to analyze and optimize. You need to be able to connect with your customers on a deep level and build relationships with customers to improve the overall user experience.
The Other Components to User Experience
As mentioned, usability is a part of a broader scope in user experience. The components of user experience are focused on understanding not only how users interact with a system but also why the users interact in that way, and how they feel when they interact in that way. Here are a few other factors to user experience:
Visual design. It's not just about being easy to use, but also about being aesthetically pleasing. Clean, polished visual designs matter.
Buyer journeys. While software may be part of a customer's experience, so is customer support, accounting, and more.
Information architecture. How is information preserved and logged within a system—and can a customer easily get help?
While usability is important, these other aspects of user experience are also extremely important. Without any of these factors, it's easy for users to get frustrated.
The Goal of Good Usability vs User Experience
Ultimately, the goal of a usable system is to facilitate what the user wants to do, while the goal of good user experience is more evolved. The goal of user experience is that the user have a positive relationship with the company's product as well as the brand as a whole. User experience goes far beyond the product itself.
It's important to understand this when improving upon the company's product and the company's relationship with its customers. Even the best product can be damaged by poor user experience, such as a lack of customer support. Conversely, good customer experience can make up for a product's shortfalls.
Core Takeaways
Modern businesses are concentrating a significant amount of their energy into developing their user experience, and, by association, their usability. An organization will likely test usability before they ever test user experience, as the first stage of development lies within ensuring that a product is able to perform the necessary tasks. From there, they need to be able to improve the feel of this experience.
After usability has been developed, the user experience has to be optimized and improved. With a large number of factors to consider, it can take a long time to determine the correct mix. Yet even though there are many other factors to keep track of, usability has a large impact on the user's experience of a brand.
Though user experience may extend further than usability does, it's almost impossible to have a solid user experience without solid usability. Usability is the driving force and the foundational aspect of any solution, and without usability users will come away from a product feeling either frustrated or confused. Understanding both the differences and similarities between usability and user experience is the first step towards arriving at an effective solution.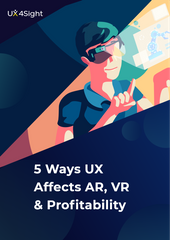 Get Latest Whitepaper
Get The Latest UI/UX Trends and Best Practices
GET WHITEPAPER
Abdul Suleiman
Chief Experience Officer
Abdul is our founder and CEO. He's helped over 40 Fortune 500 companies make informed user-centered design decisions through evidence-based user research and UX best practices. As an Adjunct Professor, Abdul has taught in DePaul University's graduate UX programs and for nine other universities.