Here's a puzzle for you. The client is requesting higher fidelity app mockups before signing off on your latest iteration. Meanwhile, your developer is claiming that the graphic designer isn't taking technical feasibility into account when designing components and has volunteered to take over all app design responsibilities. To sum it all up, you have one disgruntled designer, a visual-forward client, an overly enthusiastic developer, and a stressed-out project manager.
Now solve for X – or UX in this case, because this project is missing a user experience (UX) design specialist.
Sure, it might be tempting to just let the developer code a working prototype. The client would be signing off on a technically feasible application design and it would save a lot of time during the design sprint. But cutting UX corners can lead to more work in other areas.
Here are five reasons why you should hire a UX design specialist to bridge the design-development gap rather than relying on the developer to play both roles.
Clients need to see low fidelity iterations. In early iterations, it is important for the client to see bare bone wireframes with a focus on layout over aesthetics. For example, you wouldn't want the client to be distracted by one specific image on the homepage when you are asking them to sign off on the structure and labels of the app navigation. When you use a developer in place of a UX design specialist, there is a higher likelihood for the app design to be more detailed than it need be at that stage due to developers normally working at the execution end of the project.
Designs change. Design prototyping programs such as Axure and Sketch are made to handle an efficient iterative design process. Using such programs, it is often much easier to move components around and make changes on the fly than it is for a developer to recode the change in a full production level prototype. This particularly becomes a problem when the client wants to wait until the prototype is final before signing off on the design. Code changes will likely take longer and cost more than changes made in a UX prototyping program.
UX specialists can create interactive prototypes, too. Axure and Sketch have functionality that allows the UX designer to create interactive prototypes. If the only way the client can sign off on an app design is to see it in action, then an alternative to a coded prototype would be a design program that allows you to build-out sliders, accordions, and other interactive functionality. As a bonus, these interactive prototypes can also be published and used in usability testing.
Developers often look at the trees. As the saying goes, developers are often so focused on the tree level of work that they aren't able to see the forest. UX strategy requires a knowledge of business objectives, user research, and data mining along with the ability to synthesize that information into actionable insights at the enterprise level. Developers on the other hand are typically focused on the actual code framework that the site is built on – this level of granularity can make it difficult to pull back and see how the user interacts with the front end of the site for the overall customer experience.
UX specialists advocate for end users and internal developers. Leveraging UX prototyping software, UX design specialists produce annotated wireframes with much-needed UX specifications and design constraints for developers to reference while building-out the final application product. Providing developers with approved dimensions and content helps significantly reduce the confusion on what to code, the number of code iterations, delivery time, and development costs.
See all articles in
#Development
#Methodology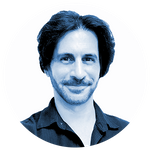 Abdul Suleiman
Chief Experience Officer
Abdul Suleiman
Abdul has helped over 40 Fortune 500 companies make informed user-centered design decisions through evidence-based user research and UX best practices. As an Adjunct Professor, Abdul has taught in DePaul University's graduate UX programs and for nine other universities.