What is 2020 bringing to user experience design and research? User experience itself is growing as a discipline, becoming distinct from user interface design and in some ways customer journeys. 2020 saw user experience really coming into its own, with some unique design trends that are being leveraged by businesses for closer, stronger customer relationships.
For a brand or a tool, user experience encompasses everything from first contact and on. Brands are now focusing on a complete customer relationship, with a few UX trends coming to the forefront.
Creating a More Personalized Experience
Companies are focusing on personalizing their user experience, going beyond just demographic information and really paring down to what the customer really needs. Companies are collecting data on what users are interested in, such as having user research driving what users would see. Customers see the information they're most interested in pushed to the forefront, while also being given the option to customize their own user experience.
The more personalized a user experience gets, the more the company is able to push the products and services that the customer is most interested in. This provides a more complete user experience.
Focusing Not Just on the Touch Points
Companies have found that touch points may not necessarily be best for accurately determining how satisfied a customer is. Rather, touch points only show how satisfied a customer is with an individual interaction, whereas they may be frustrated with the entirety of the experience.
One common example is that customers often say that they're satisfied when they contact customer service because they're satisfied by the customer service experience. At the same time, they can be frustrated by having to contact customer service to begin with. A pattern of having to get customer support or technical support will eventually frustrate them.
3D, Motion, Voice and Other Intuitive Design Structures
As phones, tablets, and other devices become more advanced, user experience is changing. Rather than point-and-click or drag-and-drop utilities, design infrastructure is starting to consider motion and 3D. Web applications are using more intuitive experiences that have the illusion of depth and movement, while augmented reality and virtual reality applications are also becoming more popular.
Moving into 2019, it's likely that more AR and VR devices are going to move into consumer homes, especially with more AR and VR capable phones and tablets being released. This is opening the door for an entirely different app and web application experiences.
Seamless Experiences from Platform to Platform
Consumers are now frequently moving from desktop computers and laptops to their mobile devices. Creating a consistent experience is about more than just "mobile-friendly" infrastructure: companies are making sure that data seamlessly syncs from each platform and that different applications create a complete ecosystem. An example of this is apps that transition between smart homes, smart cars, and smart devices.
Understanding and building upon this ecosystem is something important for many companies that want to develop a stronger brand identity, as it isn't just about mobile phones and desktop computers anymore: it's also about a large inventory of IoT capable and smart devices.
Single Sign-On with Third-Party Authentication Services
Third-party authentication through services like Facebook and Google are becoming more popular, as users seek easier ways to remember their passwords. With users now managing dozens of distinct accounts, third-party authentication services have become far more pervasive than ever before. The downside to this, of course, is that single-sign on utilities increase the potential for security breach and risk. A single compromised account can lead to a multitude of compromised accounts.
Two-factor and even three-factor authentication is now being used to improve upon security solutions, but there are still some challenges involved: it often damages the user experience. Finding ways to improve authentication through biometric services can improve security while also making it easier for users to interact with platforms.
All of these UX trends leverage new technology to create a more consistent and delightful user experience. This user experience emphasis creates a more trusting relationship with the brand, in addition to laying the groundwork for more trackable data.
UX Tools and Resources for 2020
Most tools for UX are really tools for testing out user interfaces. These are inextricably linked, though they shouldn't be confused with each other. UI tools can be used to improve upon UX, but they aren't the complete user experience.
SmartDraw. Create flow charts for your user experience easily on the web with SmartDraw, an all-in-one charting utility. SmartDraw can be used closely with the Windows ecosystem, as it can export directly to different software solutions.
Zeplin.io. A collaborative tool for UI designers, Zeplin makes it easier to integrate the full user experience with UI design. Zeplin connects both designers and developers.
Optimizely. Optimize your user experience with Optimizely, a testing platform that works for both desktop and mobile experiences. Optimizely focuses on split-testing or A/B testing, making it easier to test out multiple versions of the same site to pare down to whatever is most effective.
Marvelapp. You can turn anything into an interactive prototype with the use of Marvelapp, a web-based prototyping tool that makes building a user experience easy.
Post Summary
Creating a More Personalized Experience
Focusing Not Just on the Touch Points

3D, Motion, Voice and Other Intuitive Design Structures

Single Sign-On with Third-Party Authentication Services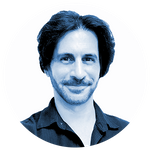 Abdul Suleiman
Chief Experience Officer
Abdul Suleiman
Abdul has helped over 40 Fortune 500 companies make informed user-centered design decisions through evidence-based user research and UX best practices. As an Adjunct Professor, Abdul has taught in DePaul University's graduate UX programs and for nine other universities.