Do you know what converts better than a beautiful user interface design? A responsive design system created based on information gathered from extensive research and user testing. The digital space is ever evolving and technology rapidly changing, and users are demanding a better user experience (UX), not just a pretty user interface. By partnering with a design agency, you can effortlessly meet the user needs. There is plenty of firms specializing in UX design in Chicago? But which are the best ones? In this post, you will find all the details.
Are you looking for top UX designers in Chicago?
Top design firms help you to effectively enhance the user experience. As a result, people can easily use your app and websites. It leads you to user satisfaction, increased conversion rates, and enhanced revenue generation. There are plenty of user experience companies in Chicago. But which are the best ones? Here, you will find all the top agencies specializing in UX design in Chicago.
Top Companies Specializing in UX Design in Chicago
Are you losing traffic on your website? When did you last look at the user journey? If it's been a while, you should revisit it and find a top UX/UI agency for assistance. The best firms will help you to understand how a user interacts with your website or application. They will take the necessary steps to boost the traffic.
Let's take a look at the top companies specializing in UX design in Chicago:
UX 4Sight is the best agency for UX design in Chicago, IL. It has a long history of success. It has worked on numerous UX designing and application testing projects for top clients, including SeaWorld and Disney.
UX 4Sight helped Disney's business analysts and front-end developers to effectively collect and analyze user requirements. As a result, they managed to leverage user analysis to design better applications and websites.
The designers of UX4Sight have impeccable screen designing skills. You will love to work with them.
"They applied advanced principles of design that reflected well on the value of our product."

Farhan Farrukh
Product Management Specialist, AIRBLOX

Intechnic is a user experience company headquartered in Chicago, Illinois. Also, it has offices in different parts of the world, including England, Australia, and Latvia. It was launched in 1997. The company specializes in UX/UI design, custom software development, web design, and web development.
Unicorn Road is a small website development company based in Chicago, IL. The firm was launched in 2020. It offers a variety of services, including web development, UX/UI design, and mobile app development.
Simpalm is a leading mobile and web app development company. It has an impressive work portfolio of 250+ apps. . It focuses on implementing intuitive and creative designs for both startups and large enterprises alike.
Simpalm worked with George Washington University to create a complete portal for students and faculty. It implemented a clean and eye-catching design. Hence, the users could effortlessly move around the portal. It resulted in an amazing user experience.
"They were very detail-oriented in the discovery and design process."

Michael Britt
Director of People Operations, Travel Arrangements Company

Promet Source is a website development firm based in Chicago, Illinois. It was launched in 2003. It provides a variety of services, including web development, UX/UI design, and application management.
"They have excellent communication and project management processes."

Web Services Manager, Judicial Institution
FarShore is comprised of top-notch web design professionals. It helps you build custom software with expert strategies and execution.
Far Shore excels in meeting clients' expectations in a timely and affordable manner. That's why it has become a go-to name in web design. It continues to make waves across a wide range of industries.
"The team is highly efficient, and they're not afraid to speak about our areas of improvement."

Founder & CEO, Technology & Services Startup
Bright Bright Great is a web design agency. It was founded in 2007. The small Chicago-based team offers a wide range of services, including web development, digital strategy, UX/UI design, and more.
"I found their level of professionalism and dedication very impressive."

Melanie Ngo
Manager, Data Consulting Firm

SANDSTORM DESIGN helps companies to effectively revitalize their materials. It enables businesses to stand out in a crowded market. As a result, you can draw the attention of new customers.
SANDSTORM DESIGN has achieved success in different industries with its targeted UX and UI design work. The Chicago-based can help you leave a powerful impression on the customers.
"We're happy with what Sandstorm Design has delivered within such a short timeline."

Global Marketing Director, Packaging Provider
Chromatic is a Chicago-based company founded in 2006. It is made up of world-class developers, designers, and strategists. They offer web development, web design, and UX/UI design services to different businesses ranging from small startups to enterprises.
Chromatic has worked with numerous companies. For instance, it partnered with TheaterMania's Gold Club for platform renovation, By providing UX/UI consultancy, Chromatic helped the company make the services compelling and relevant.
"It was a great experience from start to finish."

Yvonne Busdeker
Sr. Associate Brand Manager, OLFA

Social Driver is a digital agency. It was founded in 2011. The company specializes in social media marketing, web design, and web development. It has worked with businesses of different industries, focusing on health care & medical, non-profit, and business services industries.
3Q/DEPT is a midsize user experience agency. It was established in 2008. The firm is spread across different parts of the US, including Chicago, San Francisco, San Diego, and New York. It provides a wide range of services, such as UX/UI design, BI, Big Data consulting, branding, marketing strategy, etc.
Projekt202 is a software development agency. The firm helps organizations around the world to effectively communicate with their audiences. It helps you define a UX strategy for your target customers to improve your reach.
"Their ideas were unique and thought-provoking."

VP Product Management, Fintech Startup
Grand Studio is a user-experience design company. It was launched in 2002. It is located in Chicago, Illinois. The firm offers UX/UI design and product design services.
"What I find most impressive is their ability to navigate ambiguity."

VP, Experience Research & Design, Nonprofit Healthcare Org
Vault Innovation is a Chicago-based firm. It is comprised of entrepreneurs, designers, and developers, It can help you transform your ideas into amazing digital products. The firm offers end-to-end software development. Its services include UX research, visual design, branding, and web development.
"They're flexible and have outstanding communication and collaboration skills."

Rick Kuiper
CEO, Neuropeak Pro


Fuzzy Match is a Chicago-based company. It helps you to deliver a satisfying user experience while embracing creativity. It primarily works with enterprise and mid-level businesses in the industries of healthcare and consumer products.
"We were impressed with the entire process and results."

VP of Product, SaaS Company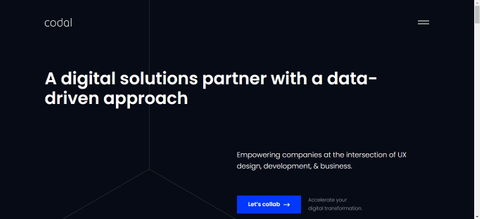 Codal is a design agency located in Chicago, IL. It has been in the industry for over 9 years. It can streamline your app's interface to boost the conversion rate. It offers UX design and mobile app development services.
'They work hard and are eager to please their clients.''

Board Member, Aviation Platform
UnitOneNine is comprised of dependable UX and UI design experts. They can help you to create impactful websites and apps. The Chicago-based agency works diligently to enhance UX/UI design and visuals. As a result, you can boost your overall brand presence and conversion rates.
"I consider UnitOneNine to be a creative advisor and partner for all of our design needs."

Tracey Doyle
Marketing Director, Analytics8

Kalapa Design Studio creates cohesive user experiences. It results in better user engagement and higher conversion rates. The Chicago-based company offers strategic design consultancy for your Cryptocurrency and Web 3.0 projects
Kalapa Design has worked with big names in the tech industry, including Apple, AWS, Google, Salesforce, and Adobe. It can help you to improve your global content marketing strategy to achieve your business goal.
"They were very professional, and the end product was amazing."

Janet Pieper

Office Manager, Law Office of Joseph W. Pieper LLC

UX Design Chicago - Which is the best firm for UX design?
The best UX design firm in Chicago is UX 4Sight. It is a Chicago-based UI UX agency offering a variety of services from conversion-based websites to UX and UI training. At UX 4Sight, we believe in delivering a kinder user experience that gives users the courage to click. This is done through thorough user research, understanding the target audience, and creating a website or application that goes above and beyond for good UX.
UX Design Chicago - What Makes the Designs of UX 4Sight Stand Out?
Our team is composed of experienced UX experts and designers that are capable of delivering a user-centric design. There's an entire team working under the wings of the marketing manager to enhance the visual storytelling of the web design.
Our development processes involve rigorous research and user testing. This helps the team better understand the business needs and current UX challenges, which ensures that we are able to deliver the right designs for our clients.
To stand out, we ensure a persuasive and emotionally reactive website with a seamless user experience. This not only keeps the users on the site but also gives them a memorable experience that entices them to return, becoming loyal customers.
We also have project management staff under a capable project manager to make sure that projects stay on track.
Overall, our cross-functional teams collaborate to provide a product that's polished in all aspects.
We Ensure Both Quality and Conversion
UX 4Sight not only offers a digital design that will stand out to the eyes, but it also helps you increase your conversion rates. The average e-commerce conversion rate is somewhere between 2.5-3%, but the right design can boost those numbers.
To ensure you receive high-quality design, you'll meet with the product management team before our graphic team gets to work. During this meeting, we'll determine the type of digital experiences your target audience expects and take the appropriate course of action to deliver a high-quality product with exceptional UX.
This will not only help your website or application stand out, but it'll also attract the type of traffic you want to increase our conversion rates.
Services You Can Expect from Us
UX 4Sight isn't a typical UX design firm that develops websites. We create experiences, invoke emotions, and ensure conversions. Here are the services we use to make it all happen:
UX and UI Design
Web development remains incomplete without either UI or UX in mind. So, our development services include both. Here at UX 4Sight, we're a team of UX professionals using emerging technologies in relevant fields to provide an immersive web experience.
From e-commerce development to health care app creation, the design skills of our cross-functional team can tackle it all.
While our UX designers focus on the experience, the UI design team crafts the story it tells to support the front-end design.
Telling a story is important in today's digital strategy. This allows a company to convey powerful and thought-provoking ideas to the users. Proper UX and UI design ensures that users not only browse the site, but find value there.
To achieve that, our UX UI designers create an information architecture for your website. Taking that as the base, they'll create user flows and turn them into low-fi work frames.
The UI designers will use the low-fi work frames and create a graphical interface on top of them. Their job mainly involves graphic design, placement of banners, opt-in buttons, texts, etc. This close collaboration between the UX UI design teams helps create seamless websites.
Design Validation
While many companies depend on long-term changes for optimization and profit maximization, we believe in strategic solutions that don't cost our clients downstream. That's why we offer design validation services. Design validation is a process of evaluating the digital product for the exact requirements of end-users or stakeholders.
We use prototypes to study users and how they interact with the design. With rigorous testing, we'll discover how a site or app is working and if it's working as intended.
If it's not functioning as it should, we take note, make the necessary changes, then repeat the validation process. This cycle repeats until the website performs exactly as it should.
User Research
Our marketing team are experts in finding the pain points of your business. The first step of our development process is making a thorough SWOT assessment of your business.
SWOT stands for Strengths, Weaknesses, Opportunities, and Threats, and a SWOT analysis is a technique for assessing those four aspects of your business. This later helps the developers and designers figure out the actual needs of your business.
We can also audit your existing website or app. Our in-house team will examine the performance of your website to discover pain points that need to be addressed.
Application Development
Besides web development, our UX designers can design full-fledged desktop and mobile apps. We hire multiple developers to optimize the application on iOS, Android, Windows, and macOS separately so you can go global across all operating systems.
Furthermore, we don't provide you with applications that you'll have to tweak on your own. Our apps come fully customized to align with your business goals. So, you can get your app online from day one and start converting!
UX Research
You may think your website is accessible and intuitive, but what do users experience? You can find that out with our quick UX review.
We'll run usability testing on your website or application. This will provide thorough information on how efficient your website design is at conversion. It'll also help you figure out the strengths and weaknesses, so you can tweak them accordingly.
Why Choose Us?
Web development isn't a said-and-done job. The process itself is rigorous and there's a lot of pre- and post-development research that's necessary for offering an exceptional user experience.
UX 4Sight goes through all of these steps to ensure an all-around well-executed development. Our development team is so versatile that we have clients ranging from small businesses to Fortune 500 companies.
From handling visual design, mobile app creation, and campaign communication design to making quick changes to an existing website, our team can do it all.
UX Designer Jobs
UX designers are in high demand in Chicago. But what are the requirements to get employed? Let's take a look at some job descriptions to get a clear idea.
Jobs for UX Design in Chicago
UX Designer 2 - REMOTE
Nordstrom, Inc
Job Description
Do you like to solve complex UX problems? Do you follow a broad set of UX methods? As a UX Designer 2 in the Enterprise UX space at Nordstrom, you'll shape digital applications and tools that support customer experiences. You will help us innovate as a company. You'll collaborate and partner with a team of experts. You will work with UX designers, content designers, researchers, engineers, and other cross-functional partners. You will design and test enterprise-focused solutions.
The customer is our compass. However, it's not our only focus. We contribute to efforts across Nordstrom and Nordstrom Rack that improve our employee experiences.
You need to have…
Experience with UX design frameworks and design language systems
Fluency in core UX design tools for UI designs, interactions, flows, and prototyping
Pay Range Details
Colorado: $99,000-$153,500 annually, Nevada: $99,000-$153,500 annually, New York: $111,000-$172,500 annually.
© 2022 Nordstrom, Inc
Find more details in Indeed.
More UX Designer Jobs in Chicago, IL
UX/UI Designer
Tek Ninjas
Chicago, IL 60602 (Loop area)
Full-time
This contractor will augment teams current capacity
Requires at least 2 years of solid, hands-on design experience
Find more details in Indeed.
UX Designer
Perkins+Will4.1
Chicago, IL 60611 (Near North area)
Full-time
The company looking for a UX Designer to turn complex workflows into intuitive user experiences
Requires 3-5 years of experience in a software UX role
Find more details in Indeed.
UI/UX Designer
Red FoundryChicago, IL
Full-time
The company is looking for a UI/UX designer for designing the user experience for custom mobile apps and responsive websites
Requires to have proven work experience as a UI/UX Designer for native mobile apps
Find more details in Indeed.
FAQ
Why do I need custom software development?
Custom software development enables you to meet unique requirements at a competitive cost. Also, it helps you to easily maintain and modify commercial software.
What does a web services manager do?
Web services managers hire and manage non-management employees. Also, they monitor the operation of information systems and technology solutions for business needs.
What is a UX designer?
A UX designer is a professional who makes a product or service usable, enjoyable, and accessible.
Why do I need UX designers?
UX designers make your products and services intuitive and easily accessible for everyone. They help you to enhance the reputation of your brand.
Post Summary
If you're interested in working with a UX firm that offers a one-stop solution for all your website and application needs, contact us today to learn more about how we can help.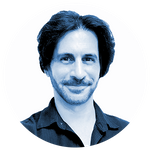 Abdul Suleiman
Chief Experience Officer
Abdul Suleiman
Abdul has helped over 40 Fortune 500 companies make informed user-centered design decisions through evidence-based user research and UX best practices. As an Adjunct Professor, Abdul has taught in DePaul University's graduate UX programs and for nine other universities.