To say that user experience is a complex and challenging topic is an understatement. User experience, or UX, is a term used to define the level of satisfaction and positive emotions that someone has when interacting with your website or app.
While the concept is simple, really understanding what makes a great UX design is not, especially when there are so many different elements at play. Just one slip up in UX could make the difference between someone bouncing away from your website or app, and one that you retain for the long term.
Let's be blunt for a moment. There's really no point investing a single dollar or minute of your time in app or website design if it isn't built to retain end users. For example, did you know that 77% of downloaded apps are never used again after the first 72 hours? That's an incredible waste of time, energy and money.
So, let's look at how to jump past this disappointing statistic and focus on good UX design that keeps user retention in mind.
First Impressions Are Made to Last
When it comes to UX design, there are 4 words you want to keep in mind – needs, wants, value and trust. These are the things that UX design should immediately address, starting with the first time someone interacts with your website or app.
The key to nailing this aspect of UX is putting yourself in the shoes of the person who comes to you for the first time. The challenge here is that most businesses are focused on long-term goals, but that really doesn't matter to someone new.
For example, you might want your app to handle a multitude of someone's needs, but if the design is overwhelming and difficult to navigate the first time around, what are the chances that same person is going to stick around long enough to discover the value?
The answer to this question is slim to none.
For UX, you want to focus on clean design and consider the elements that make people more interested in returning. For example, a simplified onboarding process or a visual tutorial that makes it easy to learn how to navigate your app.
Keep End Users in the Loop
There's nothing more frustrating for someone getting acquainted with a new app than to not know where the heck they are or how they got there. When design is choppy and unintuitive, it makes for a poor UX, which in turn, increases the likelihood of that person not returning.
UX design should be focused on features that help people understand where they are, how they got there, and intuitively lead them to the next step.
An Eye on the Future
UX design isn't static. Once you've invested in design that your users love, you still need to analyze, test and pay attention to feedback to continually create the best possible UX. It's a process of continual improvement and we're a UX design agency that's here to help.
See all articles in
#ApplicationDesign
#UXDesign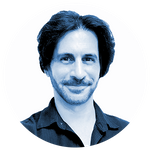 Abdul Suleiman
Chief Experience Officer
Abdul Suleiman
Abdul has helped over 40 Fortune 500 companies make informed user-centered design decisions through evidence-based user research and UX best practices. As an Adjunct Professor, Abdul has taught in DePaul University's graduate UX programs and for nine other universities.