The Importance of Good User Interface Design
We've come to think about technology as being such a regular part of daily life, that we barely remember a time when it wasn't. This could be because some us aren't even old enough to remember back that far. There are some younger millennials who have no reference for a non-digitized world. However, older millennials and gen Xers probably remember what a treat it was to play Oregon Trail on one of the two school computers.
Back then, using a computer was a whole different game. What we experience now barely resembles those computers of yore, and it's all thanks to a changing user interface (UI).
All these wonderful advancements mean a change in consumer expectations. We refer to the collection of experiences visitors have on your site as UX. The UI should follow UX strategy. It will affect how your visitor feels about using your site. Great UI is crucial today and here's why.
UI Defined
There's a lot of terminology that gets tossed around in the web design industry. UX, UI…what do they mean and how are they different? The user interface is the collection of icons, buttons, pages and all the visual elements that allow a user to interact with your site.
It might help to think of your website as a physical location. Your home page is the front door, and once a customers have arrived, they're going to want to look around. Except, on your website you don't have the luxury of greeting them face to face and offering assistance. The users are left to find everything on their own.
You wouldn't be sloppy with the placement of merchandise in a physical location. You'd want the customer to be able to wander around and find what they're looking for easily. You wouldn't make the customer work for it.
A great UI is like a smart layout. It draws the user in, encourages them to stay and makes it easy for them to find everything they're looking for and more.
Great UI Provides for an Intuitive Experience
A major factor of UX is how intuitive a site is to use. If your user interface can provide simple navigation and a logical process for how things are presented, you're going to win over the hearts of your users. It's all about creating a UI design that looks good and makes sense, and for the average user, these two things are synonymous.
Nobody wants to land on a site and feel like they're being visually attacked. Too much going on leaves the user wondering where to click and where to go next. A great UI should clean up any clutter, remove the confusion and present your site in a way that's visually appealing to the user. You should actually be more reserved in how you apply the color from your color palette.
The visual appeal factor is important because 38% of people will leave a site if they don't find it attractive. UI elements like clear, easy to use navigation bars and clickable elements that makes sense lead the user along the consumer journey in a logical progression. This means one thing for your business: A boost in conversions.
Think about it. Any website you visit has anywhere from 10 to over 100 competitors. If you visited a site that wasn't intuitive to use, how much effort would you put in before moving on to the next brand? It's all in the details, and when it comes to UI, small details have a big impact on conversions.
Good UI Is Goal Oriented
It's critical to consider what the customer wants and needs when building a website. In fact, UX design is focused entirely on predicting what the customer sees as a great experience. It only makes sense that a good UI design align with this approach. Except that with UI the focus needs to be slightly different. With UX, your nurturing the customer journey. The user interface, on the other hand, needs to provide an immediate interaction. It should be focused and goal oriented.
In other words, UI should be designed with the end user's goals in mind. For example, the users that land on your site are at multiple points in the customer journey. For some, it could be their first experience with your brand, while others have done their research and visited your website plenty of times.
What do these two people have in common? They both have a goal in mind, and it's the UI's job to help them achieve it by executing what was planned out in the UX. When the user is ready to make a move, great UI design makes it easy. It helps them get where they're going, get in and get out so they can get on with their lives.
Without a great UI design, this process can become muddled and leave the visitor frustrated and questioning whether they want to continue a relationship with your brand.
Staying on Trend with UI Design
For UI design to have a positive impact, it constantly needs to be reevaluated. Take for example, the surge in mobile usage. 75% of adults own and use a smartphone regularly, and mobile saturation is only expected to keep growing. Smartphone technology is constantly evolving and this means changing expectations in how people want to interact with their devices.
For example, we can look at how last year we saw more and more sites going with hidden navigation as users became tired of clunky navigation bars crowding out their mobile screens, or how card design became popular because it made content consumption on mobile devices so much easier.
UI affects how users feel about your site and that determines whether they'll hang around or bounce out of town. There's no reason to lose a customer to the competition over something as simple and straightforward as great UI design.
UI design is one of the easiest ways to encourage visitors to engage and eventually become customers. After your UX strategy, and all that it entails, make sure that your UI design is on point for success.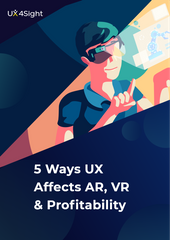 Get Latest Whitepaper
Get The Latest UI/UX Trends and Best Practices
GET WHITEPAPER
Abdul Suleiman
Chief Experience Officer
Abdul is our founder and CEO. He's helped over 40 Fortune 500 companies make informed user-centered design decisions through evidence-based user research and UX best practices. As an Adjunct Professor, Abdul has taught in DePaul University's graduate UX programs and for nine other universities.